Quietness, wideness, and a precious history
Freudenhof is a lovely resort with seven apartments for two 2 – 7 guests. Situated among mountains and lakes it breathes the genuine atmosphere of the scenery around it, with its old farmhouses and castles, its precious history, its quietness and wideness. Nature and culture are united here, and that's what you experience at Freudenhof.
Since many decades old and young holiday makers recreate in this place. Balconies, patio's and a large garden provide both plenty of opportunities to play as sheltered spots to read a book without being disturbed. Leaving your apartment you'll wander straight into the woods for a nice walk. The Zmulner Lak lays within walking distance.
You can easily drive to the capital of Carinthia, Klagenfurt, as wel as to the famous Wörthersee, Italy and Slovenia.

Apartments
All our apartments have a balcony or patio; toilet with shower or bath. When you arrive, the beds will be made. You need not bring any towels or kitchen cloths either. The rental prices also include tourist taxl and final cleaning; also no extra costs.  We just charge for using the washing machine in a special laundry room.
About us
Fallen in love
In the summer of 2016 we arrive with all we have at the Austrian 'Zmuln Hill'. In Zmuln we settle down in an old, wooden farmhaus with an historic appartmentenhaus; in the Netherlands we leave behind many dear relatives, friends, a nice house with B&B, a lovely garden en good jobs.

What's wrong with us? We have fallen in love. In love with the quietness and wideness of the mountains with their white tops and blue lakes. Living close to nature, experiencing all seasons thoroughly, sensing a link with the past – that's what suits us. An unforgetable winter, exploring, renovating and restoring, is to follow, untill -June 2017- the doors of Freudenhof are opened widely for guests whom we take in with much pleasure.
News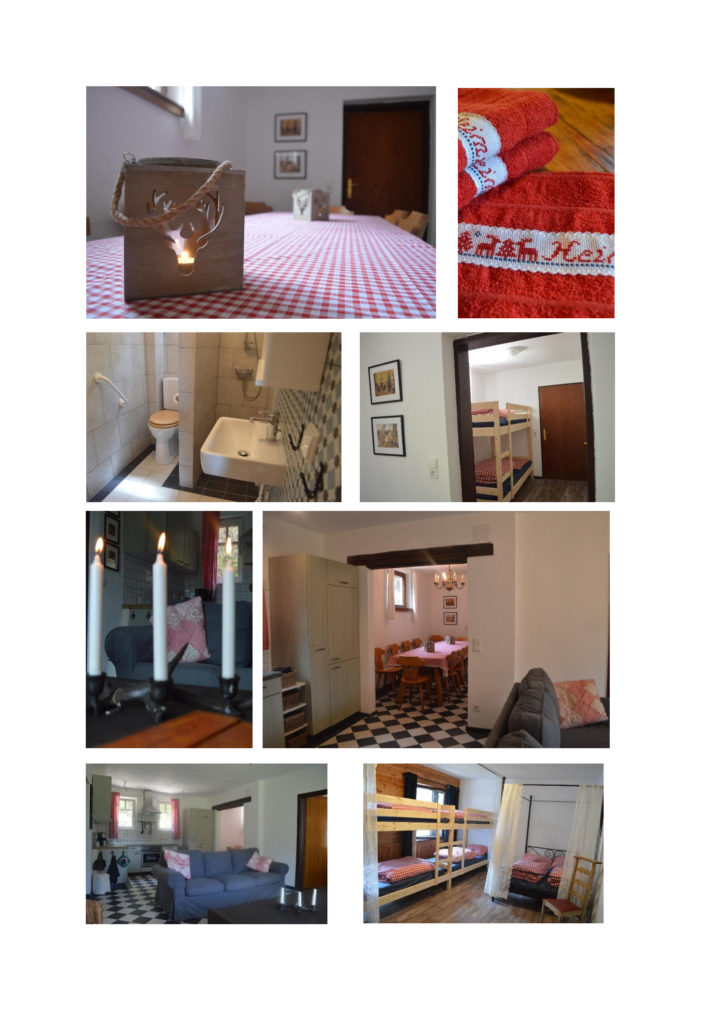 March 2019 – The snow is melting, and yet at Freudenhof we are thinking of a way of heating: Stube Heimisch (see photo collage) becomes a wood stove! We are busy with the preparations.

Pictures
Walking routes and waterfalls, cable cars and caves, mountain lakes, musea and other interesting spots, the possibilities are plenty! At the page surroundings (please click button 'surroundings' in the menu) you will see many pictures of attractions in our surroundings, but here we first show some photographs that have been made at Freudenhof itself.
From the sky you can beautifully see them at a glance:
apartment house Freudenhof, our Freudenhütte and mountain Ulrichsberg with the lake Zmulner See
amoung the wide scenery.
Harmen van Norel, thank you very much for this special impression!